The third-largest city in Australia, Brisbane is the Sunshine State capital.
Meandering along the Brisbane River, the central business district is a fusion of modernism and period architecture.
Tourists appreciate the clean and green surroundings. There's plenty of water to admire and a mild subtropical climate that's pleasant in every season.
Here's our curated list of the best things to do in Brisbane with family and friends.
8 Fun Things to Do in Brisbane
The Cultural Precinct
Cruise Down Brisbane River
Truly Underground Opera
Go Whale Watching
Dive with Manta Rays
Climb Brisbane Story Bridge
Visit Lone Pine Koala Sanctuary
Hit Queen Street Mall to Unwind
1) The Cultural Precinct
Nestled on the banks of the Brisbane River, the Cultural Precinct is a fantastic day out in South Bank. You'll find galleries, museums, and the State Library in these picturesque grounds near the riverside parklands.
The QAGOMA (Queensland Art Gallery & Gallery of Modern Art) and the Queensland Museum and Sciencentre boast interactive exhibits to enthral the kids, with opera and ballet performances for the adults down at the QPAC (Queensland Performing Arts Centre).
A late afternoon ride on the famous Wheel of Brisbane offers sweeping views of the city.
Location: Grey Street, South Bank
2) Cruise Down Brisbane River
If you're eager for more of the river, jump on a cruise.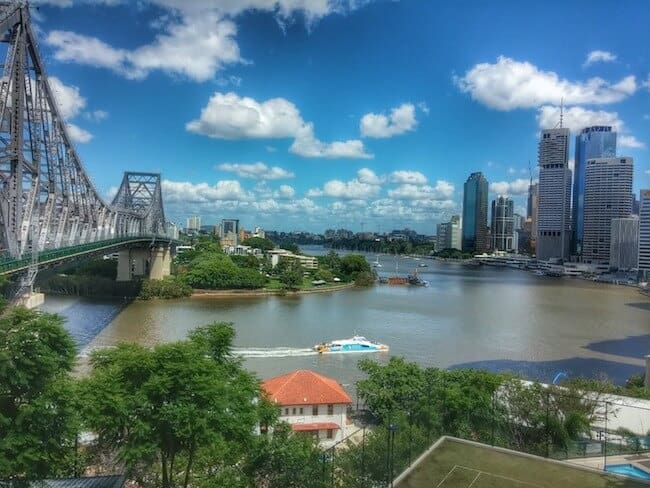 You'll be able to snap selfies and sweeping panoramas as you chug down the waterways in a traditional paddlewheel vessel. These immaculate 27-metre wooden boats are the perfect vantage point of the Brisbane Story Bridge, the parklands, and the magnificent city skyline.
Many cruises offer food and drinks, and the jazz cruise provides live music for a festive vibe.
Location: Brisbane River
3) Truly Underground Opera
Pop down to Spring Hill Reservoir for a performance at the Underground Opera Company. In the 1870s, the city's water supply languished in these vast subterranean spaces.
The stunning acoustics bring performances to life in a unique backdrop.
Location: Spring Hill Reservoir
4) Go Whale Watching
Water is a central part of life in Brisbane, so head down to Moreton Bay where the Humpbacks and Southern Rights rest and nurse their young.
You could spot your first whale within thirty minutes of hitting the water. No tedious waiting games or lengthy journeys needed to see the whales. You won't regret the short trip when you see the majesty of these giants of the deep up close.
Location: Moreton Bay
5) Dive with Manta Rays
Over the summer, Manta Bommie dive site becomes a hive of activity. It is in the Top 10 nationwide dive sites, with plenty of marine exotica, like manta rays, guitar sharks, turtles, wobbegongs, octopi, and lionfish.
Location: Manta Bommie dive site, North Stradbroke Island
6) Climb Brisbane Story Bridge
The iconic Brisbane Story Bridge might not have the same impact as the Sydney Harbour, but it makes an outstanding vantage point.
As you ascend, feel smug knowing it's one of only three city bridges worldwide that can be climbed. Over 74 metres at the apex, the climb is mildly challenging for a healthy adult. It takes two or three hours, which is long enough to bask in the view without tiring yourself out.
The gear is provided, including an enclosed climbing suit. Basic training is provided, so you'll start out feeling confident and primed for action.
The views extend as far as the Glasshouse Mountains, and you'll enjoy an unfettered panorama showcasing Brisbane. You can also abseil down if you don't feel like climbing.
Location: Brisbane Story Bridge
7) Visit Lone Pine Koala Sanctuary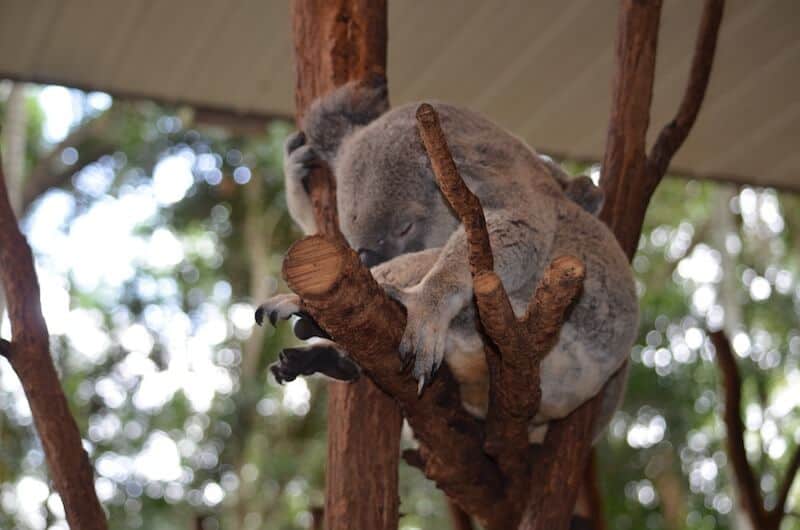 Head to Lone Pine and cuddle a koala, the national icon. Treasure warm memories and a snapshot of you holding a koala, snake, or baby crocodile in this small riverside sanctuary.
A cruise to the sanctuary leaves every morning from Brisbane's Cultural Centre Pontoon.
Location: 708 Jesmond Road, Fig Tree Pocket, Queensland
8) Hit Queen Street Mall to Unwind
The 700-unit mall stocks everything you could imagine. It's pedestrian-friendly, and the twisting period arcades are packed with gems to explore at your leisure.
On Wednesdays, there's a farmers' market selling local produce and artisanal products.
Location: Queen Street, Brisbane
After a long day out, you'll need a break with Viga Mobile Massage in Brisbane. Call us and we'll come to you!